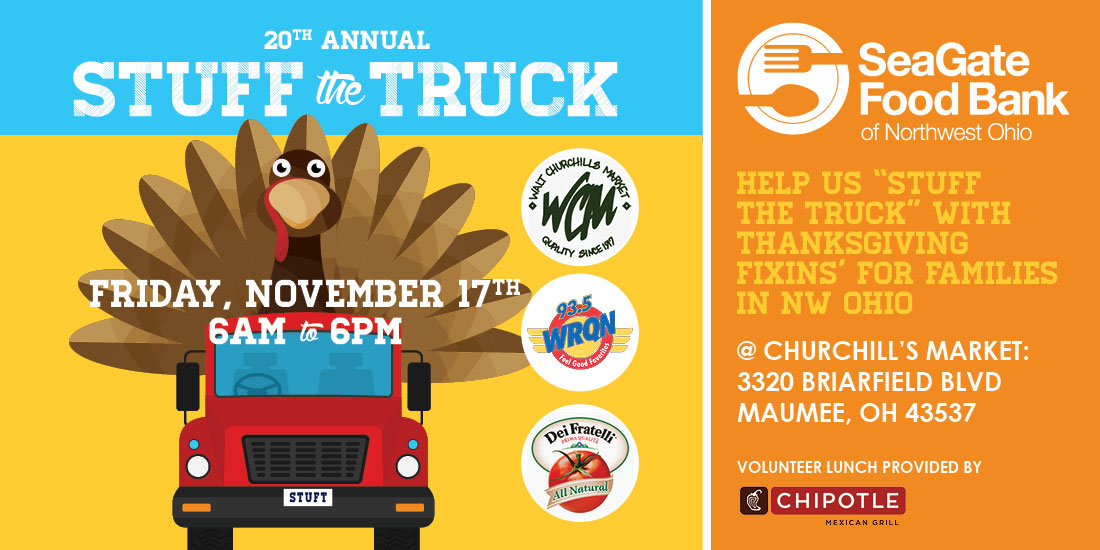 The Week of

November 12th

to

17th

Each $20 Pre-packaged bag purchased donates $5 to SeaGate Food Bank  (Buy a turkey for your neighbor!)
Friday, November 17th
6am
to

6pm
Help us "Stuff the Truck" with Thanksgiving fixins' for families in NW Ohio
This one-day event is hosted at Walt Churchill's Supermarket on Briarfield in Maumee. Help us "Stuff the Truck" with Thanksgiving fixins' for families in NorthWest Ohio. For the past 20 years, SeaGate Food Bank has provided Thanksgiving meals to local families in need.
We need volunteers to help load food donations onto the truck. Bring your family, friends, or organization and lend a much needed hand.
93.5 FM, WRQN will be broadcasting live from Walt Churchill's Market. Meet your favorite 93.5 personality and give a shout out for your volunteer organization.
Interested? Contact Cheri or Angi at (419) 244-6996.
Volunteer lunch provided by:


Sponsorship Opportunity
There is an opportunity for sponsorship at the $1,000+ level to partner with Churchill's Market for radio and television promotion to extend this event's ongoing success.
Call 419-244-6996 for details.