Buy Tickets
---
You are invited to NOT attend!
Help us celebrate the most highly anticipated Un-Event in NW Ohio. The No Show No Dinner Gala is Ohio's most esteemed virtual gala created to raise funds which directly impact the lives of thousands of underserved children throughout NW Ohio. Help us feed our neighbors! Buy tickets to not attend! Order an expensive meal, or warm a t.v. dinner; you will not be joining us! Dress up if you want, but do not come here! We do not want to see you for the live raffle drawing taking place @10am sharp via FaceBook live. We hope not to see you there. Purchase your tickets today!
---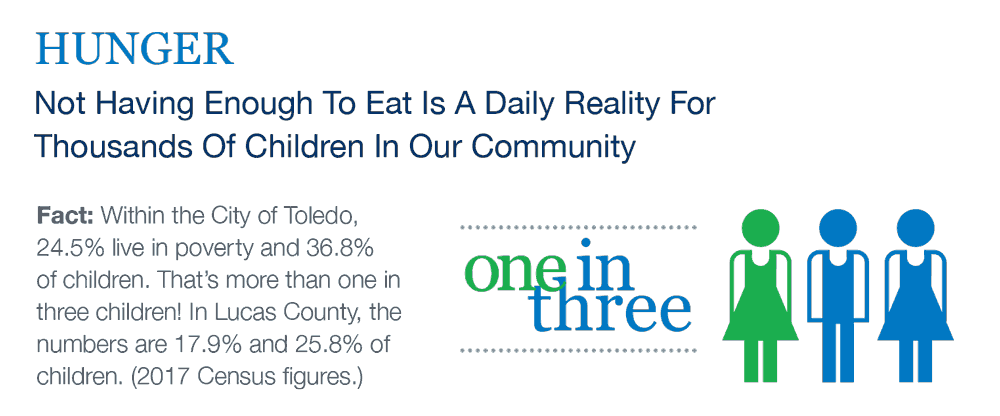 ---
Buy Tickets
2022 Prize List
**Grand Prize** Roundtrip Flight for 2 from Toledo Lucas County Port Authority
Gift Card to Ye Olde Durty Bird
4 Football Tickets at University of Toledo Athletics
6 Large Pizzas from Marco's Pizza, Inc.
One Year Family Membership at the Toledo Zoo & Aquarium
Tickets to any Masterworks or Chamber performance by the Toledo Symphony
Gift Cards from The Blue Pacific GrillIce Cream from Jeni's Splendid Ice Creams

2 Adult Round Trip Tickets to Put in Bay on Miller Ferries to Put-in-bay and Middle Bass Island, Ohio

4 Tickets to Home Game, Nike Backpack, T-Shirt, Sweatshirt, Vest with University of Toledo Women's Basketball

2 Admission Tickets to Sauder Village

2 Tickets to Home Game at Cleveland Monsters

2 Tickets at King's Island

Infrared Sauna Treatment, Aromatherapy Foot Salt Soak, Yoga Class at Serenity Health & Wellness

VIP pass for 8 people

at the African Safari Wildlife Park

T-Shirt, Sketchbook, Beanie, Sticker, Mug from the Charles Herndon Gallery and Sculpture Garden

Exterior Works Annual Gold Club at Expresso Car Wash Inc.

Hand-Blown Glass Item from Toledo Museum of Art

Thomas Greiss Autographed Photo by the Detroit Red Wings

2 Tickets for the Great Lakes Science Center

Ultimate Wash

at Mike's Car Wash

2 Tickets to the National Underground Railroad Freedom Center

2 Tickets to a Cincinnati Reds Game

Eric Robinson Autographed Photo from the Columbus Blue Jackets

4 Tickets to the National Museum of the Great Lakes

4 Tickets to Holden Forests & Gardens

Cleveland Cavaliers Swag Bag

4 Tickets to a Canton Charge Home Game

41K9 Prize Basket
---
Did you know?
FOR ONE IN THREE CHILDREN IN OUR COMMUNITY, FOOD INSECURITY & HUNGER ARE DAILY REALITIES
100% of proceeds from the NO SHOW NO DINNER GALA™ will support SeaGate Food Bank's ongoing crusade to eliminate childhood hunger. Your donation will fund not only food distribution, but three SeaGate Food Bank programs created to address the unique needs of children---F.I.R.S.T.™, Milk Money for Kids™ and the Eat Right Academy™.