---
Thank you for your support of our 2023 No Show No Dinner Gala
2024 Date TBA
Help us celebrate the most highly anticipated Un-Event in NW Ohio. The No Show No Dinner Gala is Ohio's most esteemed virtual gala created to raise funds which directly impact the lives of thousands of underserved children throughout NW Ohio. Help us feed our neighbors! Buy tickets to not attend! Order an expensive meal, or warm a t.v. dinner; you will not be joining us! Dress up if you want, but do not come here! We do not want to see you for the live raffle drawing taking place via FaceBook live. We hope not to see you there.
---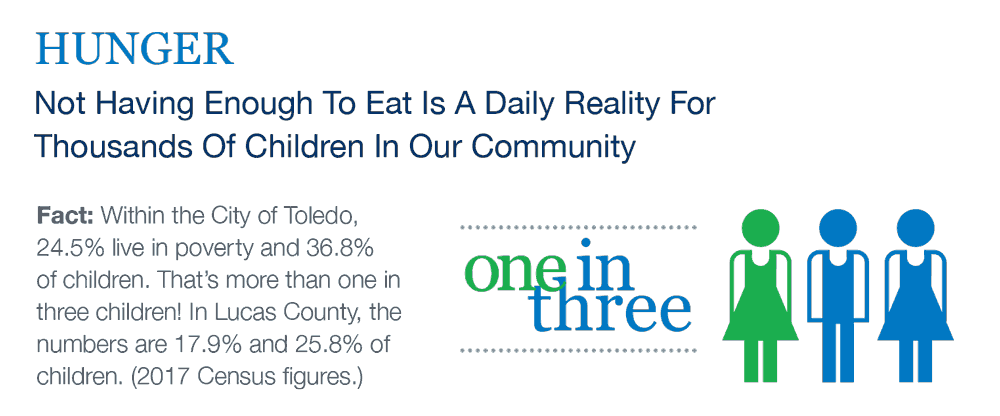 ---
2023 Prizes
41K9 Dog Daycare & Overnight Boarding Basket
Toledo Zoo Family Membership
Kelleys Island Brewery Certificates
MacQueen Orchards Gift Certificate
Lagoon Deer Park Passes
Toledo Symphony Orchestra Passes
Sauder Village Admission Tickets
Gift Certificates to Ciao! and Other Fine Restaurants
And Much More!
Win Prizes From:
Toledo Port Authority
Expresso Car Wash
Miller Boatline
National Museum of The Great Lakes
Lagoon Deer Park
Levis Commons 12
Toledo Zoo & Aquarium
Department of Intercollegiate Athletics
Stranahan Theater and Great Hall
Marco's Pizza
MacQueen Orchards, Inc.
Toledo Cultural Arts Center at The Valentine Theater
Magic Wok
The Cleveland Museum of Arts
Texas Roadhouse
Port Authority
41k9 Basket
Toledo Museum of Art
Chateau Winery and Vineyard
---
Did you know?
FOR ONE IN THREE CHILDREN IN OUR COMMUNITY, FOOD INSECURITY & HUNGER ARE DAILY REALITIES
100% of proceeds from the NO SHOW NO DINNER GALA™ will support SeaGate Food Bank's ongoing crusade to eliminate childhood hunger. Your donation will fund not only food distribution, but three SeaGate Food Bank programs created to address the unique needs of children---F.I.R.S.T.™, Milk Money for Kids™ and the Eat Right Academy™.