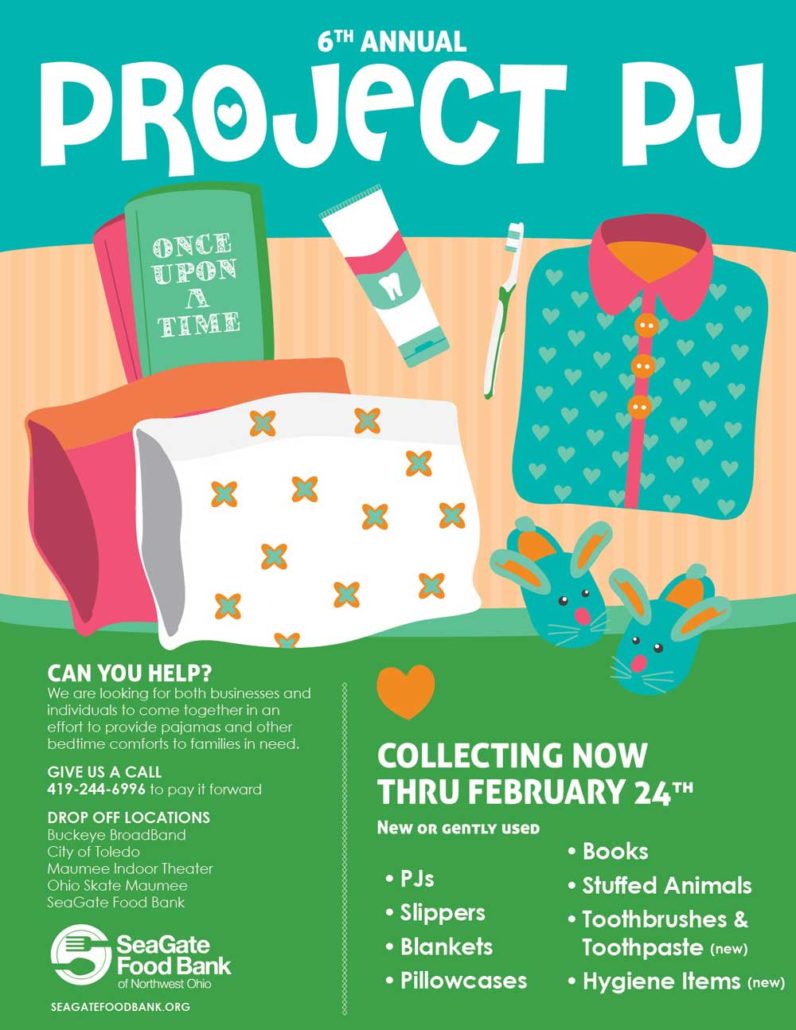 Collecting NOW thru February 24th
New or gently used:
PJs
Slippers
Blankets
Pillowcases
Books
Stuffed Animals
Toothbrushes & Toothpaste (new)
Hygiene Items (new)
This annual program collects bedtime items for children, including pajamas, stuffed animals, books, toiletries, and more. Items are collected In large boxes at several collection points in the area.
Can You Help?
We are looking for both businesses and individuals to come together in an effort to provide pajamas and other bedtime comforts to families in need.
Give Us A Call
419-244-6996
to pay it forward
Drop Off Locations
Buckeye BroadBand

City of Toledo

Maumee Indoor Theater
Receive a free child sized popcorn for any donated item
Ohio Skate Maumee
Feb. 23 from 6:30 – 8:30 pm Free admission with donated item; Skates $1
Seagate Food Bank


526 High St. Toledo, OH
Participating Locations
Fox 36

Maumee Indoor Theater

Buckeye BroadBand

Concept Rehab

O.I.

Morgan Stanley

The City of Toledo (all departments)

Campbell's Soup (Napolen)
Sponsorship Opportunity
Sponsorship would include your company name and logo on all collection boxes and mention in television and radio spots and in promotional materials.
Call 419-244-6996 for details.